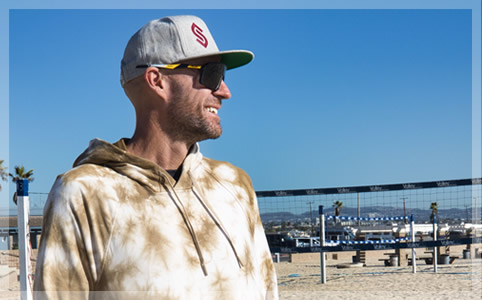 Club Culture
Our belief here at Spiker Beach Volleyball Club is one of partnership and service. Jake understands the importance of coaches in beach volleyball but knows that coaches are in service of the players, not the other way around. At Spiker Beach we train technical development and mental toughness, as well as aid in college recruitment.
Training Philosophy
Training under the acclaimed coaches Rich Lambourne, Tyler Hildebrand, Jeff Alzina, Marcio Sicoli and Mike Dodd, Jake Gibb has developed a coaching style through twenty years of playing in the professional beach volleyball world. He believes in high repetition practices with a focus on guided play. Our aim is to teach players how to navigate the match on their own.
Partnerships
Jake Gibb saw success over five different partnerships, from the legendary UCLA beach volleyball coach Stein Metzger to current MVP of the AVP Taylor Crabb. We believe strongly in working with teams to become greater than the sum of their parts, teaching the skills needed to be versatile and adaptive in partnerships.
Recruitment
At Spiker Beach our goal is to serve players in their local tournaments all the way to their collegiate recruitment. Our relationships are strong in the world of college beach volleyball, and our goal is to provide opportunities for players to continue their beach career.
Tournament Coaching
Tournament coaching is limited to pre/post game and timeout coaching. No coaching allowed during play. Jake Gibb will attend most Orange County tournaments, no coaching fee for Spiker Beach players. Please wear Spiker Beach gear to all tournaments.
About Jake
Founder, Director and Head Coach Jacob Spiker Gibb had a long and fantastic career in professional beach volleyball. The four-time Olympian earned multiple Team of the Year Awards (USAV, FIVB, AVP) as well as three MVP awards (AVP).
History
Spiker Beach is in the process of starting a new journey. We are excited to welcome beginner, intermediate and elite levels to our beach volleyball club.